Alumni > Aishwarya Amar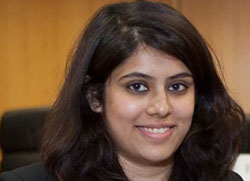 I joined Vidya Niketan in 2001 and passed out in the year 2013 with a lot of confidence and fervor to face all challenges and to excel in all walks of life. At school, I was an avid debater and passionately participated in various Model United Nation Conferences which sparked my keen interest in international relations and law.
My interest in the field of law surfaced during my school days at Vidya Niketan, when I was volunteering with the Jyoti Trust, an NGO devoted to the education of underprivileged children. While most children I worked with, faced financial hardship, abuse and discrimination, their undying dedication and enthusiasm to learn inspired me. It awakened me to their lack of representation in society, which kindled my belief in Law as a tool of social empowerment.
Having decided to pursue law, I joined Symbiosis Law School, Pune. At law school, I channelized my focus on academic excellence and was consequently awarded the gold medal. Along with academics, I developed a distinct interest in Moot Court Competitions which is an integral part of any law school, and participated in various National levels Moot Court Competitions. Soon, I was fortunate enough to represent India at the Leiden Child Rights Moot at Netherlands and the Stetson International Environmental Law Moot at Florida, USA. Where I received the Best Advocate Award.
In the final year of law school, on account of my keen interest in academia, I decided to pursue post graduation in law. I was humbled to receive an offer of admission from two prestigious Universities namely, Oxford and Cambridge in the United Kingdom. I have decided to join the Somerville College at Oxford University to pursue my higher education.
I have also been recently awarded the Cornelia Sorabjee Scholarship to pursue the BCL Course (which is the Post Graduate Degree in Law) at Oxford University. They scholarship is to commemorate Somerville's pioneering alumna and India's first woman lawyer, Cornelia Sorabji, in the 150th anniversary year of her birth.
While it is truly an honour to study at a college that has seen the likes of visionaries such as Cornelia Sorabji, Margaret Thatcher and Indira Gandhi, I more importantly feel responsible to uphold their vision and legacy. Upon completion of my course, my goal is to pursue a career as a legal practitioner in India and contribute to the society in every possible way.
To those who are in school and even to those who have recently graduated form school and advancing towards college, I hope that all of you will follow your dreams and infuse your life with focus and determination. So please keep your eyes on the stars and your feet on the ground.