Community service > Jyoti Kiran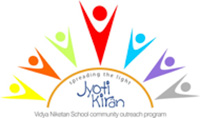 Jyoti Kiran – Spreading the light
Come and become a volunteer.
Now in its fifth year, VNS Jyoti Kiran is a volunteering program designed at teaching communicative English skills to economically disadvantaged children. This year, the program reaches out to 207 students and is managed by 50 parent and non parent volunteers with one single goal – using English proficiency as a stepping stone to a better quality of life for the children.
Dear Parents,
Wouldn't you like to leave an indelible mark on the world?
Don't you want to be the example that your children aspire to follow?
Don't you want to initiate and witness a life changing transformation?
We would like to invite you to be a part of the VNS Community Outreach Program, Jyoti Kiran, at Vijay Gupta Kempapura Government School which will give you all of this and much more.
Currently in its 5th year, Jyoti Kiran is a program designed at teaching Communicative English Skills to indigent children.
How can you be a part of this program?
You could Volunteer your time for English
classes or Library classes depending on your preference.
English Classes are held at the Kempapura school between 1:30 pm and 2:30 pm during the week for the 3rd and 4th standards based on lesson plans developed by the Aarunya Trust.
Library classes are held for the 5th and 6th standard students on alternate Saturday mornings.
Aarunya Trust is driven by a passionate team from diverse backgrounds with multiple skill sets united by one collective dream: To equip economically disadvantaged children for a brighter future and a better quality of life by improving communicative English skills and reinforcing English reading skills while increasing their self worth.
While communicative English is our primary focus, we also teach basic etiquette to promote self worth and confident peer interaction. The lesson plans are designed to stimulate creative thinking, encourage student participation and make the learning process fun.
If you have some time to spare every week, you can witness for yourself the amazing impact that this program has had on the children. Their confident demeanour, command of English and the eagerness with which they look forward to our classes are testament to the change this program has made.
Please join us and be part of this rewarding journey by contacting our parent volunteer in charge of recruitment,
Ms. Sneha Pai